I had the idea to mount a screen in our living room to display our images from your world-tour. I did not want to spend too much money and for a test I used an old screen I have around.
Initially I tried with an "old" Lenovo SL500 laptop running Ubunut 20.04. I tried many picture viewers as I wanted to have a smooth transition between the images. I had an old Raspberry Pi around, but soon I figured out that that this was really too old, as I was not able to upgrade the release to a current version. With that I've order a Raspberry 4 with 4GB of RAM.
I found a genius who did all this already.. Wolfgang Männel from https://www.thedigitalpictureframe.com/ . He runs a blog where he explains everything step by step and this was really helpful.
So I installed the latest Rasparian (https://www.raspberrypi.org/downloads/) from the main Rasberrypi.Org site.
Then I installed Pi3D, this brings a nice little script which will be our picture-viewer. I followed the instructions from Wolfgang to set up everything as required.
After no time, I was able to view my pictures!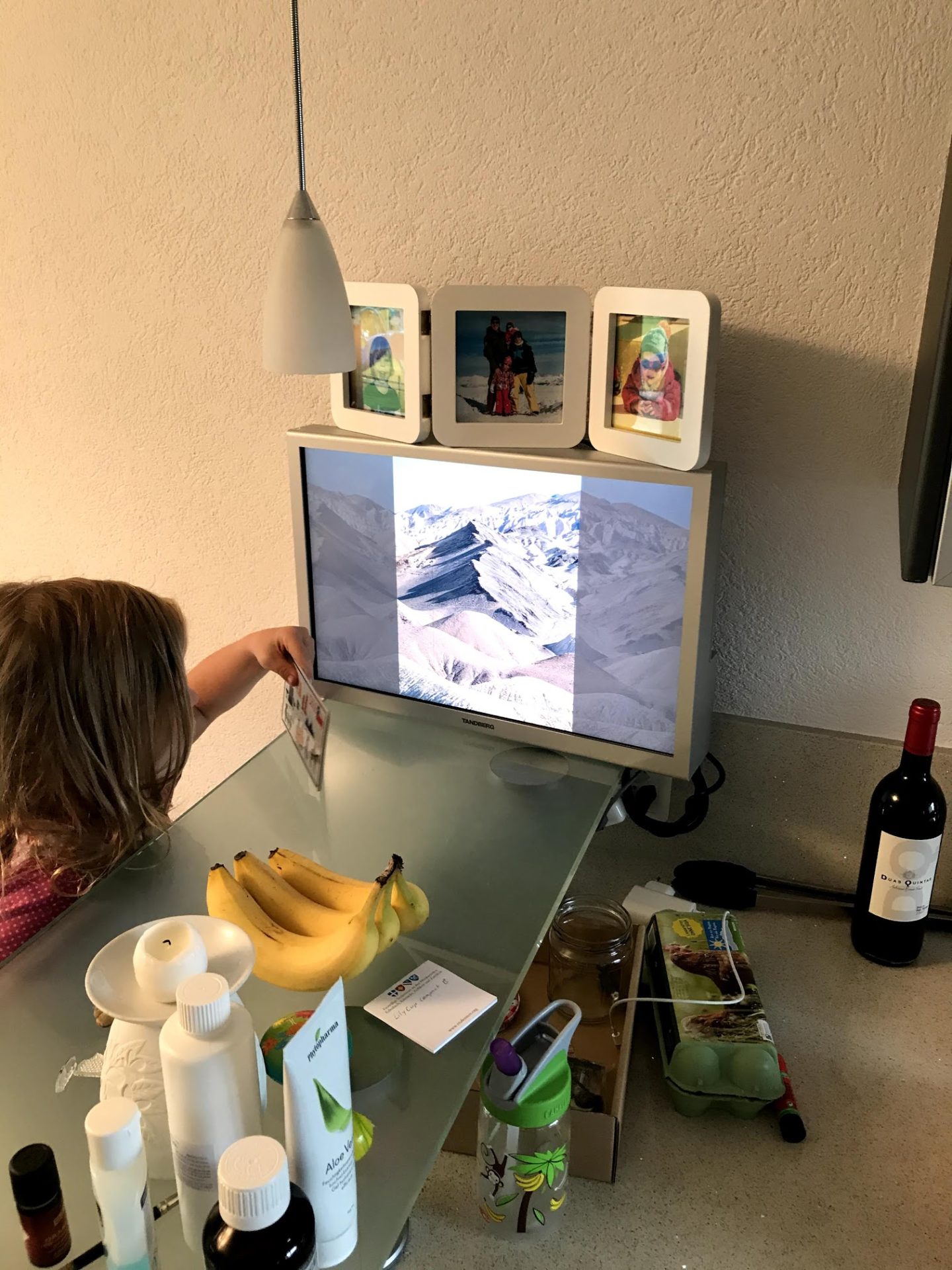 I wanted to do some little modifications to my show:
New image every 60s
Smooth fade of 10s
Shuffle all pictures at start
Shuffle again once all have been on display
Enable the keyboard, to cancel the show if needed (I'm still in development mode…)
This is what I ended up with
Material:
Add-On's
I use PiHelper, to turn on/off the screen, as we don't want the screen to run during our meals 😉
NextsSteps and ideas
Larger 4k screen
Display the current time on the screen
Display the City/Location on the screen based on exif data of the image
My PictureFrame.py settings:
#####################################################
# these variables are constants
#####################################################
PIC_DIR = '/home/pi/Pictures/AllPictures'
FPS = 20
FIT = True
EDGE_ALPHA = 0.125 # see background colour at edge. 1.0 would show reflection of image
BACKGROUND = (0.2, 0.2, 0.2, 0.6)
RESHUFFLE_NUM = 1 # times through before reshuffling
FONT_FILE = '/home/pi/pi3d_demos/fonts/NotoSans-Regular.ttf'
#FONT_FILE = '/home/patrick/python/pi3d_demos/fonts/NotoSans-Regular.ttf'
CODEPOINTS = '1234567890ABCDEFGHIJKLMNOPQRSTUVWXYZ., _-/' # limit to 49 ie 7x7 grid_size
USE_MQTT = False
RECENT_N = 1 # shuffle the most recent ones to play before the rest
SHOW_NAMES = False
CHECK_DIR_TM = 300.0 # seconds to wait between checking if directory has changed
#####################################################
BLUR_EDGES = False # use blurred version of image to fill edges - will override FIT = False
BLUR_AMOUNT = 12 # larger values than 12 will increase processing load quite a bit
BLUR_ZOOM = 1.0 # must be >= 1.0 which expands the backgorund to just fill the space around the image
KENBURNS = False # will set FIT->False and BLUR_EDGES->False
KEYBOARD = True # set to False when running headless to avoid curses error. True for debugging
#####################################################
# these variables can be altered using MQTT messaging
#####################################################
time_delay =60.0 # between slides
fade_time = 10.0
shuffle = True # shuffle on reloading
date_from = None
date_to = None
quit = False
paused = False # NB must be set to True after the first iteration of the show!