The day of the "dead end roads"
Today I had to do 3 turnarounds…
First "dead end road"
Well this is not really a dead end road in the sense of that I thought it was through road. I stopped at the Fruita visitor center to get information about the backcountry road towards Goblin State park. Unfortunately, they did not know too much about the road I was going. But on the oder side I decided to view the valley of Fruita.
At the end of the road, I did a small hike to the "The Pocket" which was pretty nice and hot.
Second "dead end road"
After I've seen the Grand Staircase on the way back, I headed over towards Hankville, where I was looking for the route towards Goblin State Parkv over the "Cole Mine Road". On the way there, an other road was offering a way there, the "Caneville Wash Road", so I turned into this road. After about 30min passing the dried out river, I followed the route..an other 10min, I thought there was something wring.. I headed too far east. Checking the GPS, I was right. So I turned back to the river and found the "road". It looked really bad, not well maintained. I decided to turn around and take the next road to Goblin.
Third "dead end road"
Wow, this road was well maintained. Wide, smooth, and straight. I made great progress, passing by the Factory Butte into the badlands. Winding roads through hills of gray gravel. After about 1h I came to the "Bud Creek", a little river, about 5m wide and 50cm deep. So no big challenge for my Jeep Wrangler I fist thought. Being alone, and far from a road, where someone could help.
I took off my shoes, and stepped into the river. It was all soft and squidgy, the ground was giving way. I wandered around in the river for a while, and came to the conclusion that the car would sink in. And I would not be able to recover the car at all. So I had to turn around one more time….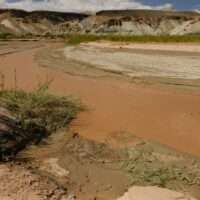 So I headed to Hanksville to check into the Motel.
At about 6pm I drove to the Goblin State Park, to get some nice images from the Goblins!
The sun was about to set, so I rushed down into the park and was able to shoot some very nice sunset time lapse.
To my surprise, they had a Full-Moon session with the Ranger and a Astro photographer.  There was a 1h walk through the Goblins in the Moonlight. There where about 30 people, on the walk. After the walk they brought out telescope to see the moon up-close. Unfortunately the sky was covered with clouds ever so often. At about 11pm I picked un my camera and headed down to the park one more time, where I was able to shoot some amazing images of the Goblins in the moonlight…